I recently spent about 2 weeks back in my hometown.  It was so nice to spend time with my family!  My Grandma Bloesser had just had knee surgery and my Grandpa Bloesser had been dealing with kidney stones for almost a month!  I felt so blessed at the support the community of Ulysses.  Every day there was someone checking up or dropping something off whether it was frozen meals, comfort foods, and some delicious sour cream lemon pie!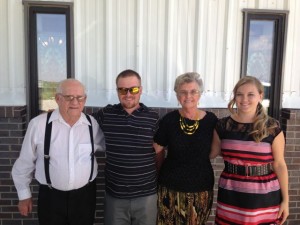 My home ec teacher, Mrs. Chadd was one of the amazing community members I was talking about.  She brought over a poppy seed chicken dish that was DELICIOUS!  An hour after eating that night, I messaged her for the recipe.  She was kind enough to send it to me!  Unfortunately, I learned that the delicious crunchy topping is a sleeve of crushed up Ritz crackers and 1/4 c melted butter.  Alex can't have the crackers, so I had to get creative with my topping.  I am pretty happy with the results as it is a pretty healthy meal packed with protein!  The first time I made it, Alex suggested mashed potatoes next time and I think it would be delicious over quinoa too!   Enjoy!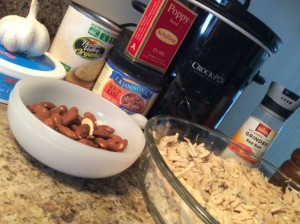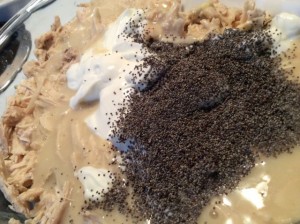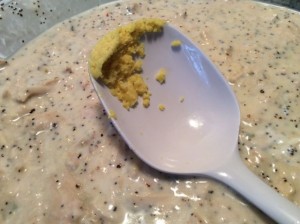 Gluten Free Poppyseed Chicken
4 boneless chicken breasts
2 cups water
1-2 T chicken flavored soup base
Salt & Pepper to taste
2 cloves minced garlic
8 oz. sour cream
1 can gluten free cream of chicken
3 tsp. poppy seed
1 1/2 c. almonds (crushed)
1 T melted butter
Throw some frozen chicken breasts in the crockpot with water, garlic, soup base, salt & pepper on high for a few hours to get the chicken breasts thawed out. After a few hours, put the chicken on low. When the chicken is finished, put chicken in a casserole dish to cool.  Using two forks, shred the chicken.  Add sour cream, cream if chicken, 1 T of chicken flavored soup base, salt, pepper, and poppy seeds.  Melt 1 T of butter and mix with crushed almonds.  Cover the top of the dish with crushed almond topping.
Bake at 350° for 30 min