In June I purchased my first sewing machine! I did my homework and found a good machine on amazon.com.  The machine I purchased is  the Brother LB-6800.  It was a combo pack that came with a tote to store it!  I made sure to get a machine that has embroidery capabilities.  I figured embroidered items would be a great addition to my Etsy shop!  Both of my wonderful grandmas can sew and my great grandma was an amazing seamstress as well.  I wish that I would have taken it up more when I was younger, but I got frustrated easily and never really learned how to sew without the help of someone over my shoulder.  That being said, I have the "craft" gene and I should be able to catch on pretty easy.
When I graduated college, my Grandma Bloesser gave me an old machine of hers so I could make some curtains.  I got it home and couldn't figure out how to thread the damn thing, broke a few bobbins and handed it off to a cousin because I had no idea what I was doing!  I wish I could go back to that day now, because with YouTube and Pinterest, there are so many great tutorials out there that would have helped me.  Keep in mind, I was not even on Facebook yet back then!  It is amazing how much technology has changed since then!  (I still have college papers on those old "floppy" disks!)
I found a Sewing 101 class at Joann's and have officially completed my first class as of Tuesday this week!  I was surprised to get there and be the youngest one there.  I figured older ladies already knew how to sew!  Our instructor, Jeanette was a sweet lady that was very impressed that a woman my age was interested in learning to sew!  I felt bad though, because she had to stay an extra half hour after class to help me because I managed to break 2 needles and have a few other issues with my machine.  She was so patient and helpful!  I even signed up for her next class making a pair of Lazy Pants next month.
We talked about different terminology, parts of the machines, picking out fabric, using patterns, etc.  I made sure to ask questions when I had one.  We made a travel pillowcase with a jelly roll and a french seem.  I have to admit, I had a hard time understanding what a jelly roll was and why we were doing it, but once the project started going it was easier to get a visual.  My pillowcase was not perfect, but I learned so much in the class!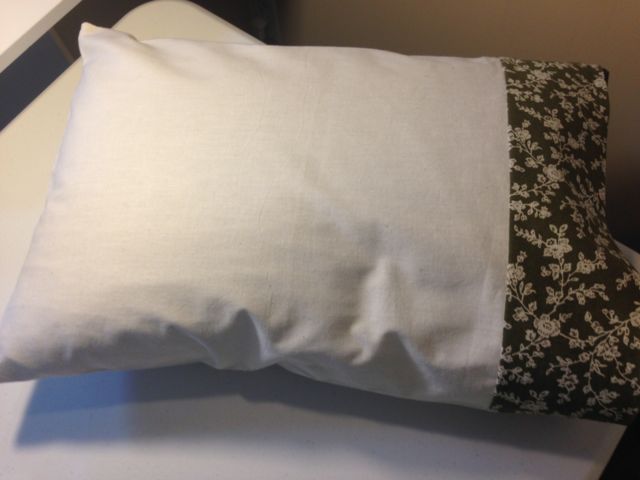 I wanted to write this post and share with you my sewing journey, as I plan on mastering it and sewing up some beautiful creations!  I found an amazing website on Pinterest that I wanted to share.  It has different worksheets to practice sewing a straight line, corners, turns, and curves.  I am working on my second set of worksheets today as I found them very helpful!  Check out the following link at Sew So Easy to print off your practice sheets today!