I don't get a whole lot of time to sit down and sew anymore.  So today, I made sure that I had some time to get Avery's Thanksgiving outfit sewed up and ready for Turkey Day next week.  Sure, I could have bought an already made one, but that is not as fun for this crafty mama!  I am a part of a few sewing groups on Facebook and my newsfeed has been flooded with adorable turkey outfits and Avery needed her very own!  What I love about this project was I just used a bunch of scrap fabric that I had piling up and so it was very cheap!
DIY Turkey Onesie
Materials:
Scrap Fabric
Heat and Bond or Wonder Under
Brown Felt
White Felt
2 Buttons
Coordinating Thread
I made a template in my Silhouette and you can download my Turkey Template.  I did my onesie front and back, because let's face it, Avery needed some turkey feathers on her booty!  Cut out the template and trace your parts onto some Heat and Bond or Wonder Under.
Then place the pieces on your fabric for the feathers, body, eyes, and beak.  Make sure you have your fabric RIGHT SIDE DOWN before you iron it on.  If you iron the pieces onto the fabric before you cut it out you make less of a mess with the Heat and Bond!  I figured that out the wrong way last time I played with the stuff!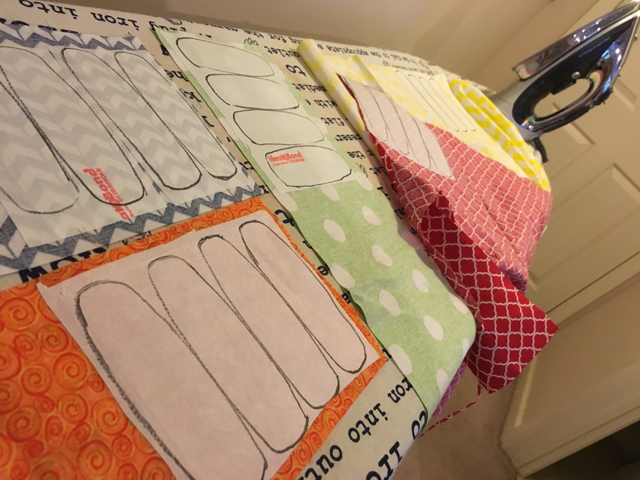 After you iron on the pattern pieces, go ahead and cut out your pieces.  Place the pieces how you want them and peel off the backing before ironing down.  I found that the felt pieces didn't iron on well, I am assuming because of the thickness of the felt, so I had to pin those down before zigzagging around the felt.  After ironing it all onto your onesie, zigzag around each piece with coordinating thread.  Take your time, it takes some patience, but it is worth it to go slow!  After that, you just need to sew on the eyes and the snood! (Yes I had to use Google to see what that red dangly thing was called!)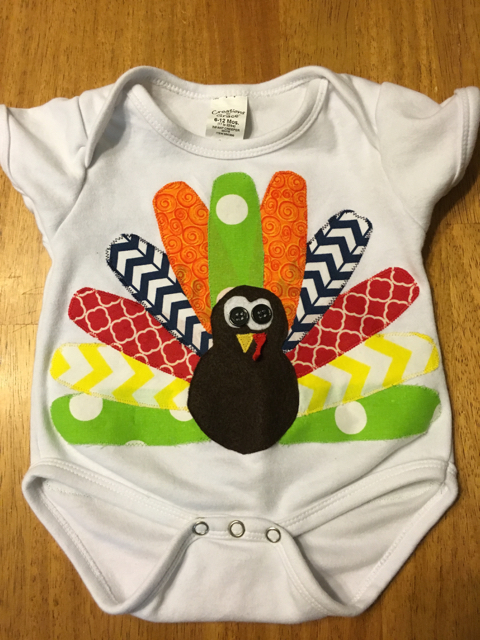 I will have to add a picture of my little turkey wearing her outfit next week!  For now I will leave you with my snoozing little turkey…