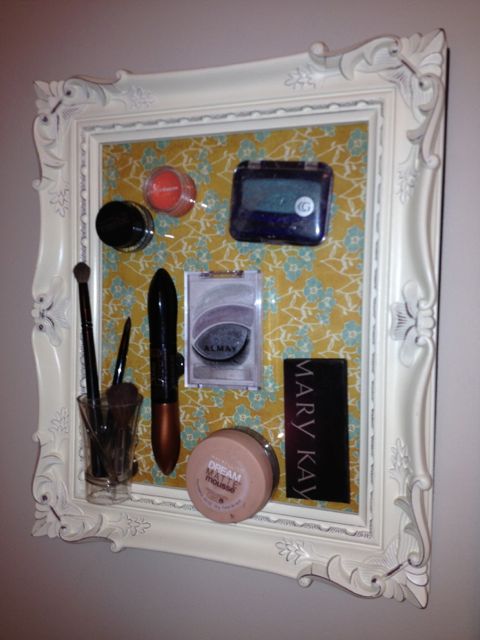 I am not quite sure what I would do without Pinterest!  This is a project I did about a month ago and here I am just getting it posted!  I hate having to dig through my makeup bag every morning for my basics that I use almost every day.  I rarely switch things up very often.  I am simple as in I either go with blacks or browns depending on what I am wearing for the most part.  This is obviously not everything in my makeup bag but I just wanted the things I use all the time to be readily available.  What I love about this is the fact that it gives me a little "artwork" for the wall too!
Now this was a very simple task minus the reorganizing it took for me to get it put in a good place for me to conveniently use it.  I bought all of the stuff to make it and realized that since my side of the sink was by the towel rack I was not sure where I was going to hang it.  Alex was thrilled when I asked him if we could trade sinks so I could hang it up where I could reach it easily (not really!).  I told him to relax because I would do all of the work and he would not have to worry about anything.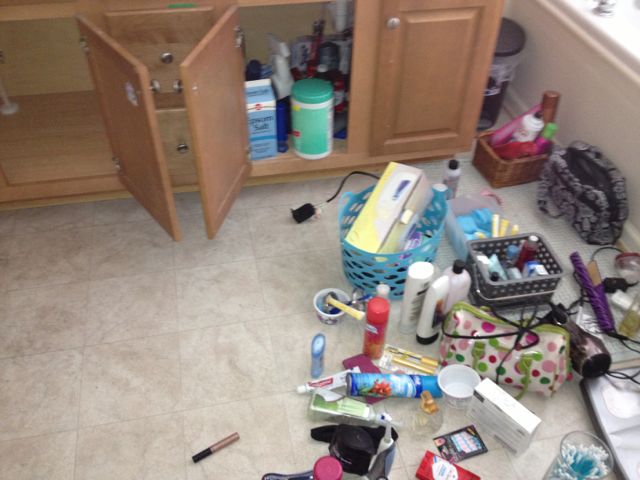 Now that I have the entire thing moved over, things are much more organized and the pluggins at my new sink are working out beautifully!  We are still adjusting to our new sinks!  Of course after I got this completed and it was time to hang it up…there were not any studs close enough to the mirror for me to hang it up but I did it on the wall behind me.  Needless to say there was no need to switch sides in the end but at least I got it purged and organized!
So here is the tutorial for making your own framed makeup artwork:
If you want to do all or more makeup, I would go with a bigger frame.  This one was just an 8×10 frame that I found at Hobby Lobby.  I only wanted to do a small version because I do not use most of my other makeup unless I get a wild hair.  The metal sheets I found at Michaels and two of them fit my 8×10 frame perfectly.  The other tutorials I found for this took out the glass and modpodged the paper to the metal piece.  I just happened to try it with the glass so if I get sick of the paper I chose, I could always switch it out.  You can find metal sheets at Lowe's or Home Depot that they can cut to the frame size you go with that would probably be a stronger hold for the magnets.  If I were to do it over again I would have done that.  Honestly I was being kind of lazy by just using the ones from Michaels but they worked so I am ok with that!  Also make sure that you get magnets with a strong hold.  They have all different strengths available.  The stronger the magnet, the more likely it is going to stick better!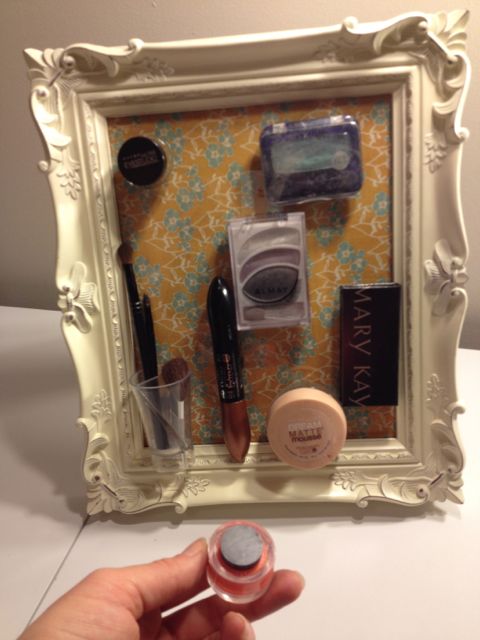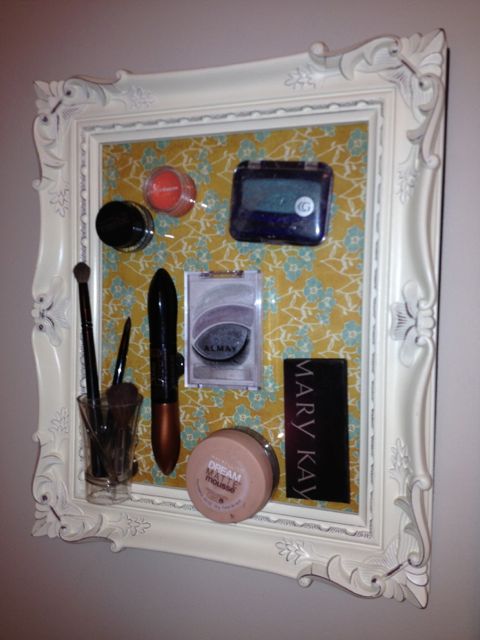 This has worked out really well and I love having everything right there for me.  I worried about traveling with it but the magnets can be pried off pretty easily so no big deal!  Let me know what you think and Happy Crafting!