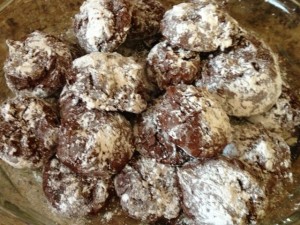 "circle"
There are two things I could not live without…mexican food…and CHOCOLATE!   Alex teases me all the time about my chocolate consumption.  It is best that I do not buy bags of chocolate because it always ends up with me consuming the entire bag in sometimes one, maybe two days.  I wanted to find a recipe to try that I could not feel so guilty about.  I wanted a go to recipe to make if I am having a chocolate craving.
I kept running across flourless cookie recipes on Pinterest.   The blog that struck my fancy was one called picklee.com.  I mainly followed the recipe on her blog but as usual I tend to do my own thing.  The cookie texture was too soft to roll into the powdered sugar like she did so I rolled mine right after taking them out of the oven which seemed to work well for me.  Also I melted all of my chocolate in because the morsels were so big only a few cookies were going to have those chips.  I think if I were to do it again, I might buy smaller morsels and throw some in for the chocolate chip taste.  Either way they were delicious!  I made them for Super Bowl and they were a hit!
Dark Chocolate Cookies
***Please note that the recipe calls for 3 egg white at room temperature, so make sure you do this ahead of time.
Ingredients
1 bag dark chocolate chips (approximately 9 ounces)
3 egg whites (room temperature)
1 tablespoon corn starch
1/2 cup cocoa
2 cups powdered sugar
1/4 teaspoon salt
nonstick cooking spray
Instructions
Preheat the oven to 350 degrees.  Melt the bag of chocolate. (You can keep a half a cup on the side to use for chips in the cookies if you wish)
While the chocolate is melting, you need to whisk the egg whites to soft peaks. I used my electric beater because it takes awhile.