We have a 5 month old!  I can't believe it.  She is growing so fast!  I am soaking up every moment of being a mommy!  I decided that it was time to do our first art project and Avery loved it!
So we actually did some Christmas art, but since they are Avery's Christmas presents for family, we can't show them off just yet!  We did, however make daddy some artwork for his birthday later this month and we were so excited that we gave it to him early, so I can show it off!
I knew I wanted to do some footprint art with her and had read up on a few tips for footprint painting with babies so I thought I would share them and some we came up with on our own!  One of the blogs I found said it was a good idea to have everything set up and ready and to do the project right after a nap so that baby would be in a good mood.
While Avery was taking her afternoon nap, I covered the table in trash bags and got everything ready to go.  I cut all the paper we needed with a few extras in case we messed up.  Babies wipes are a must!  I found some Crayola finger paint.  I wanted to make sure we had something washable and non toxic.  Make sure to have two paper plates for each color.  One to put paint in and the other I used as a dabber for excess paint.  The other must is a Bumbo chair.  This helped a lot to keep baby in one place!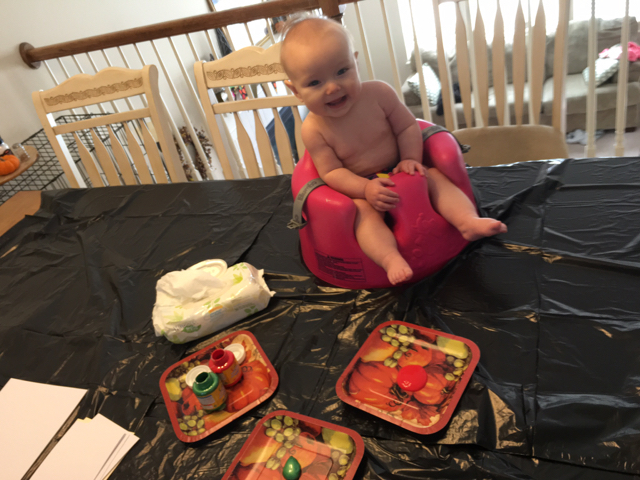 I just started an assembly line and started stamping.  It was so funny, she even seemed like she knew that she needed to press her toes down when I took her heel and guided her foot.  She had a blast!
I used my Silhouette Cameo to cut out the letters and glued them on, but you could just print it off and do the footprints on the page if you don't have one!