So yesterday I crossed a major milestone.  I ran my first half marathon!  Most people think I am crazy, but those out there who have had the pleasure of learning to love running don't!  I was never a big runner until my best friend, Laura motivated me to try it.  I remember hating to run when I was in school and I was never very good at it.  I ran the 200 m dash in track back in 7th grade but I was not good at it.  I was just trying it out.  I wish I would have gotten into cross country in high school because I think I would have really enjoyed it!
The first race I ran was in July of 2011.  I ran it with Tracey and Roger
I remember thinking while I was running that I was NEVER going to be able to do a half marathon.  I probably should have started off with a 5K but I was trying to challenge myself.  I did run it in 58:34 which was a pretty good pace for me!  It was good to get my first race under my belt!
I did my second race in March the next year.  Tracy is a track star, so I did not keep up with her but it was liberating to do another race.  It was the Diva Dash in Leawood.  I was surrounded by motivating women and it was a cool experience!
The next race was in May here in Kansas City.  I had heard about the Warrior Dash the year before from one of my friends that had ran it in Tulsa and it sounded like so much fun!  Now this is not a normal race, as it is a 5K with obstacles.  It was really hot and we were signed up for the 2:00 heat, but we made it through!  Alex, Matt, Heather, Tracey, and Roger ran this race with me.  It was pretty hard core!  We swam through swampy water, climbed walls, and ran through fire among many other obstacles!  I wanted to run it again this year but we got back from the Dominican on late Friday and the race was scheduled for the 27th of April this year so we did not get a chance to do it.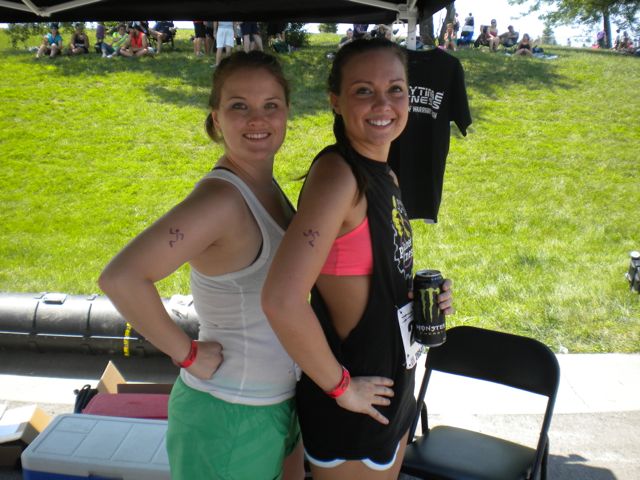 Post race <3
Last March I got the opportunity to run the Diva Dash again with some teachers from my school!  It was a fun experience and hopefully we can start forming teams for more races!
I was originally going to run my first half with the bestie, Laura.  Her hubby ended up getting a promotion and job offer in New Mexico and they had a lot on their plate to get the move going!  We decided it would be better to find another one later to run together when things calmed down and they got all moved.  I had already started training and thought maybe I still wanted to do a race before then.  So I bit the bullet and signed up for here in Olathe so I could keep motivated and keep my training going.  I am glad  I did it and it feels great to be able to say I did it.
I am so happy to continue my running journey!  I am looking forward to finding some races to do this summer.  If you aren't a runner, don't say you couldn't do it.  I thought the same thing and I have just accomplished running something I would have never dreamed I would be able to do and it feels great!  Running is such a great stress reliever and if you have never really given it a shot, I challenge you to get out there and try it out!  Start small and build yourself up!  I can remember the first time I ran 3 miles without stopping…then 7….then 10!  It feels amazing!
Happy Running!!