So I know this is a long name for a recipe…but it was not possible to leave a single flavor out!  They are all there!  These enchiladas are probably one of the most amazing mexican dishes I have ever made….I even made the comment to Alex that I felt like "they were pretty amazing for a white girl."  lol  Anyways…when I saw some recipes on Pinterest  for chicken and avocado enchiladas I was sure I had to give them a try.  We have been doing so good on our new lifestyle change that I have been trying to find healthier recipes.  It is not a secret…but in case you are not aware of my love of mexican food, let me just say this again…I could live on Mexican food, Lucky Charms, and chocolate!  So this healthier lifestyle is going to have to involve still eating the same things I love…just in a healthier form.
One of our new favorite mexican places to eat is Fronteras on Blackbob and 135th.  They have this Cream Cheese Chicken Enchiladas that have this jalapeño cream sauce that is delicious!  It actually reminds me of the Chicken and Avocado Enchiladas from one of my other KC favorites which is Jose Peppers/Cactus Grill.  They are a lot alike.  I think the only difference is the ones from Fronteras have cream cheese.  This dish reminds me a lot of those and I will throw it out there that if I would have had black beans and rice I would have thought I was there.  It was really good!
Ingredient List:
2 ripe avocados
1/2 cup sautéed white onions (Alex's suggestion for next time)
chopped green onions
fresh cilantro
2 cloves minced fresh garlic
1/2 of a fresh squeezed lime
1 cup salsa verde medium (salsa isle)
2 cups shredded Cheddar and Monterey Jack blend cheese
1/2 cup plain greek nonfat yogurt
1 cup chicken stock
1 can green chiles (or 1 chopped jalapeño for more heat)
4 smoked chicken quarters without skin
8 medium size tortillas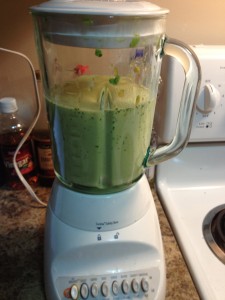 Put chicken stock, chopped avocado chunks, garlic, cilantro, fresh lime, salsa verde, yogurt, and green chiles in a blender and puree.
In a bowl combine smoked shredded chicken with sauteed onions, 1 cup cheese, and half of the sauce mixture.
Fill tortillas and place in a glass pan. Pour the rest of the sauce mixture over the enchiladas and sprinkle the top with the rest of the cheese.
Bake at 350° for about 15-20 minutes or until hot and bubbly. Serve with a dollop of greek yogurt and salsa!
Nutritional Information per Serving:
431 calories
34 carbohydrates
24 fat
25 protein
These enchiladas are amazing!  I could not believe how great they turned out!  I will definitely be making these a lot!  They are delicious!  I used My Fitness Pal to create the nutritional information for this meal.  I have been using iTrack Bites but have heard some good things about My Fitness Pal so I am going to give it a shot.  It is a social networking site that connects me to other people that are logging food and exercising.  I think I am going to like it.  I have never been one to count calories but with this app they do all the work for me!  I am just logging the food.  I love my iTrack Bites app but I really would like to be able to create recipe information like I can with this new app.  We will see how it goes!