I absolutely love it when I have a few bananas that get a little too ripe to eat alone.  I have never been a huge banana fan in general, so I have to make them exciting to trick myself into eating them.  To tell you the truth, they are kind of growing on me!  I had some blueberries left from my amazing friend Katie that brought them from a blueberry patch they visiting in Tulsa.  If there is one muffin that I love…it has to be blueberry!   I decided to give a banana blueberry muffin a shot and boy am I glad I did!  They were DELICIOUS!!!  Alex couldn't stay out of them, so that told me they had to be good!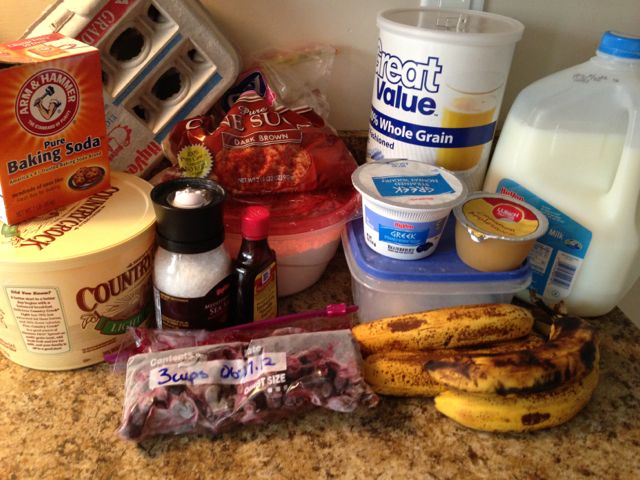 Ingredients:
3 Tbs butter
1/2 c applesauce
1/2 c Greek yogurt
3 eggs
2/3 c sugar
2/3 c brown sugar
1 1/2 tsp baking soda
1 1/2 c flour
1 c old fashioned oats
2 ripe bananas
1 cup blueberries
1 tsp vanilla
Splash of milk
Directions:
Preheat the oven to 350 ˚. Lightly grease muffin tin and set aside while you make the batter.  Mix all sugars and butter together until nice and creamy.  Add applesauce, yogurt, and eggs and mix thoroughly.  Add oats, baking soda, vanilla, milk and mashed bananas to the mixture.  Fold blueberries in right before you are ready to put the batter into the muffin tins.  Fill the tins about 3/4 full.  Bake for 10-15 minutes depending or until a toothpick comes out clean.  Makes approximately 2 dozen.