I love fries…all kinds of fries…curly, shoestring, waffle, and especially crinkle fries!  If I could eat more fries without gaining a million pounds, I probably would!  My eating habits are a lot better than they used to be. I can remember coming home from the bar with girlfriends in college and we would fire up the "Fry-Daddy" and make chicken strips and fries as our 2:00 am late night snack.  Looking back at pictures from college, I am so bummed that I did not take better care of myself.  I gained 50 pounds in college and had such low energy.  I have learned better eating habits and how much happier I am when I am working out and feeling great!  (Don't get me wrong, I still try to enjoy all the things I love…but only in moderation.) We have a beautiful trail by our house that goes throughout Olathe.  I love to go for runs and walk the girls on it.  Alex and I got bikes last week and have been going for rides and enjoying the fresh air!  Recently, I have been getting into yard work more.  Pulling weeds can be quite the workout if you are doing it right and its like hitting two birds with one stone!  Alex would love it if I would get out and mow but those things make me nervous!  I am better with a vacuum cleaner!
Anyways back to sweet potatoes…I keep trying new things with sweet potatoes.  I used to be a pretty picky eater and lets face it people…they are ORANGE and were not something my brain could wrap around until Alex talked me into trying some sweet potato fries at Johnny's down the street when we first started dating.  I found a new love!  So why can't I make my own, more healthy ones at home?  Well that was what was for dinner Sunday night…and I am thinking about doing it again tonight!  Alex was impressed so he won't mind!
Ingredients:
sweet potatoes
olive oil
salt & pepper
Instructions:
Preheat the oven to 400°.  Start off with a few sweet potatoes and cut into strips. I actually only ended up using one potato because they were huge.  I just needed enough for two!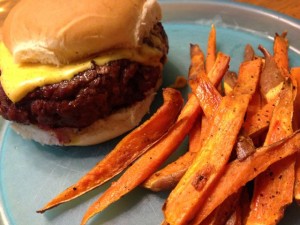 These turned out absolutely amazing!  I am almost positive I am making these again tonight because I have been craving them ever since.  Sweet potatoes are really pretty good for you as far as potatoes go!  If you haven't tried one before, I urge you to check them out!  They are delicious especially dipped in ketchup…then again what isn't good in ketchup?!